In the image features myself working on a gouache self portrait for my illustration course with Professor Katie Ries. 
Hello reader! Whether you are a fellow classmate, professor, hiring manager, or someone that was just scrolling through the mass entirety of the internet; welcome! And I mean that in the most sincere and friendly voice that I can muster! Welcome to my website. Here you will find various categories featuring images of some of my artwork, my personal blog about my art journey, an about me page, and a contact page! First off, I should introduce myself, my name is Madeline Gassner and I am currently a senior at St. Norbert College. I am pursuing graphic design with hopes of collaborations of photography, advertising, and well of course, graphics!
While this category for the blog is titled, 'Illustration - ART 389' and is for a class, this is the beginning of telling about my journey as an artist. I first began being interested in art in elementary school. Throughout my elementary school days, I had great art teachers that wanted us to be creative and unique with our art projects. Although it was not my anticipated college major during this point in my life, I was always fascinated by art and the process of creating it. By fifth grade, I was starting to use my mom's DSLR Canon camera, with her permission of course. Middle came around and that is when I first started feeling frustrated with my artwork that I was creating. It was not as exciting as the good old days of slabbing glue together with feathers to make a Thanksgiving turkey, but it started to become difficult. That's when I started to learn that art wasn't an easy A. I had heard fellow classmates tell me that they only took art classes in middle and high school to boost their GPA. Despite their statements, I kept exploring.
Middle school art ended in a blur. I created projects solely for my art class and what was desired by the professor. I ended up doing drawings in my notebooks however when I wasn't paying attention in math or science. High school came along and I discovered that art was my escape. I had a lot of struggles throughout high school and found myself constantly in my high school's art rooms. From design, painting, ceramics, to even independent art summer courses, I was always signed up for an art class per semester. I was known to be the student that was pushing for a better art program. I was also one that argued with my fellow athletic classmates about the importance and definition of artwork. Throughout high school and towards the end of that time of my life, I was constantly doing something. I started collecting vintage film cameras in my junior year and took up painting as a side hobby after I was done with homework. I was constantly trying new things and embracing failure. Some days were far more frustrating than others. Some resulted in paint stains on the floor and some resulted in burning horrible acrylic paintings I had created.  
Two roughs for 'The Three Little Pigs' storyboard covers and my attempt at the final cover. This was an assignment for ART 389 Illustration based off of the Lisa Congdon video on Skillshare that featured the same concept of for the project.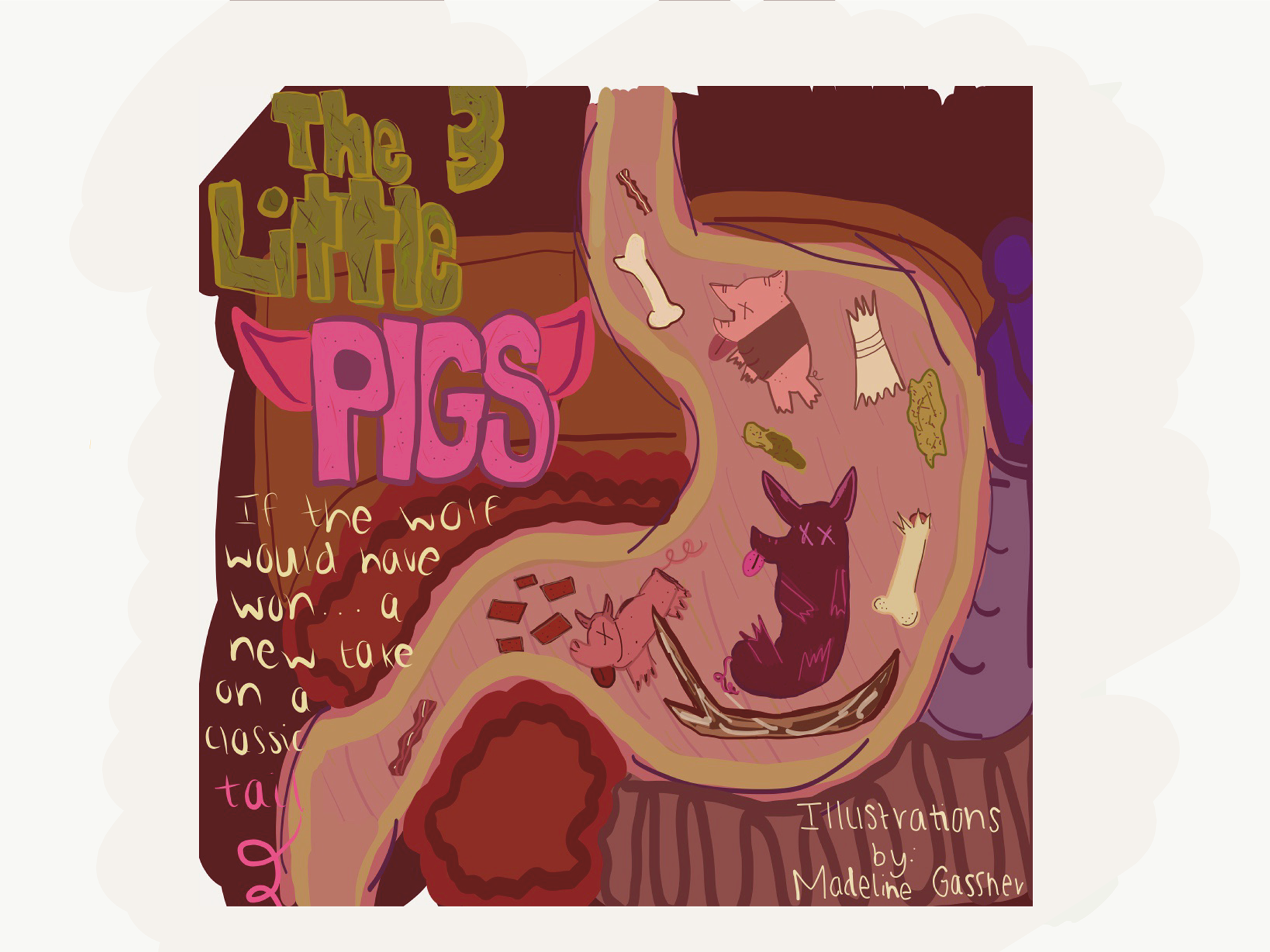 Other examples of covers created in Adobe Illustrator Draw on my iPad Pro.
My finished 'The Three Little Pigs' cover. I updated my previous sketches that were done on my iPad and made the text more clear on Adobe Illustrator on my laptop. It still features the comedic feel I wanted to capture in my first rough but now looks more clear and bright, compared to other sketches. 
Then came St. Norbert College. Initially, I had come into school thinking I was going to be working for my family's accounting firm in my hometown, boy was I wrong! My college art career began when I took an introduction drawing course with the one and only, John Gordon. You may know him if you are a fan of the Packers, wink wink, he did create the famous Packer 'G'. Although I struggled with the course, I managed to continue with the art program at St. Norbert. I went through some ups and downs throughout my college career; health issues, failing a class, and changing my major (only like four times) was the summary of my overall journey. I was able to have multiple pieces in various shows on campus and also in a gallery located in Marshfield. My time at St. Norbert College has pushed my art skills way past what I thought it was capable of and only continues to push me more.
You may notice in my artwork that my main form of medium is photography. Like I mentioned before, photography has been a massive role in my life since the fifth grade. In May of 2018, I had the incredible opportunity to attend a photography conference in my hometown called, 'After Dark'. It was a conference led by the local photographer, Dave Junion, who had done my senior pictures. First off, Dave Junion is a huge image to the face of my hometown when it comes to photography. He runs multiple events throughout the city including taking photos for the 'Never Forgotten Honor Flight'. Anyway, the conference consisted of professional photographers teaching new-coming photographers as mentees, the ropes and techniques that they use on a daily basis. It was a great opportunity that resulted in networking and new ideas for future works of mine. Needless to say, I would definitely attend again in the future.
​​​​​​​
These images feature examples of some of the works I had created during the three week span of our first projection for Professor Ries' illustration course.
For the purpose of my illustration course, I find myself challenging myself with various mediums in order to create unique and thoughtful illustrations. Within my illustrations, I find myself doing multiple attempts in order to get a project perfect. My illustrations also include a variety of styles from very childish and playful to dark and mysterious. Within my illustrations, I want to have a wide variety of creations. I believe that this will appear to multiple job opportunities and expression that will broaden my horizon as an artist. I aim to use illustration as a rough for the process of having a board to use as thought process of what to base my work off of. Purpose I create rough sketch out of pencil and then scan it to my computer. That way I can either color the original sketch or I can take it to any of my graphics programs and do anything I want with it. My goals for illustration is to include it in my everyday art functions.
​​​​​​​
Well you did it. You made it to the end of my post! *crisp high five* Thank you for taking the time to read my post. Please make sure it share it, read it again, or contact me to ask me any questions!
Please check back in to see my next entry!
- Madeline 

​​​​​​​​​​​​​​